We understand that to plan effectively for Southend we have to look beyond our borders and plan strategically with neighbouring authorities.
The Association of South Essex Local Authorities (ASELA) partnership comprises the local councils of Basildon, Brentwood, Castle Point, Rochford, Southend and Thurrock together with Essex County Council (see Figure 3). The partnership are developing a 'shared ambition' as to what it would like South Essex to look like by 2050.
This shared ambition will be developed into a '2050 Vision' to guide the preparation of strategic documents for South Essex including a statutory Joint Strategic Plan (JSP). This will set out strategic planning policies for the sub-region for a range of major issues including housing, employment, infrastructure and environmental considerations and importantly where strategic scale development should be located. The Joint Strategic Plan is currently being prepared and will be subject to separate public consultation later in 2019.
Similarly, Southend-on-Sea Council is progressing a Southend '2050 Vision'. This will be about the future development of the Borough and how it affects the everyday lives of the people that live, work and visit here. The Joint Strategic Plan and Southend New Local Plan together will provide a part of delivering these wider visions.
The Joint Strategic Plan will provide the framework for the preparation of more detailed local plans for each of the South Essex Local Authority areas, including the Southend New Local Plan.
The hierarchy of strategies and plans related to Southend is depicted in Figure 2 below.
Figure 2: Hierarchy of strategies and plans related to Southend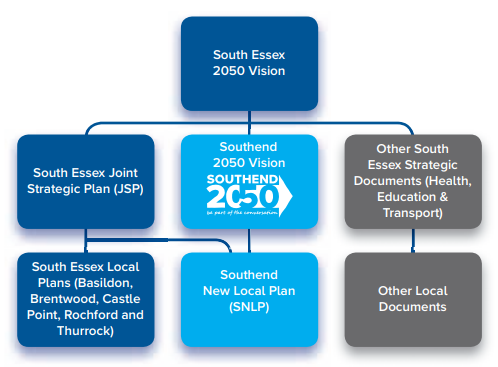 Figure 3: South Essex Strategic Map