Introduction
As with any Borough, Southend is not a single homogenous place. Rather, it is a collection of separate and distinct places or neighbourhoods which have grown together over time to create a substantial conurbation. It will be important that the New Local Plan considers the issues facing the different communities of Southend.
As part of the Issues and Options document we identified eight neighbourhood areas at Eastwood, Leigh, Westcliff, Prittlewell, Southend Central, Southchurch, Thorpe Bay and Shoeburyness (Figure 13). We asked you what you thought were the key issues facing the neighbourhoods and possible options for resolving these.
Figure 13: Southend's Neighbourhoods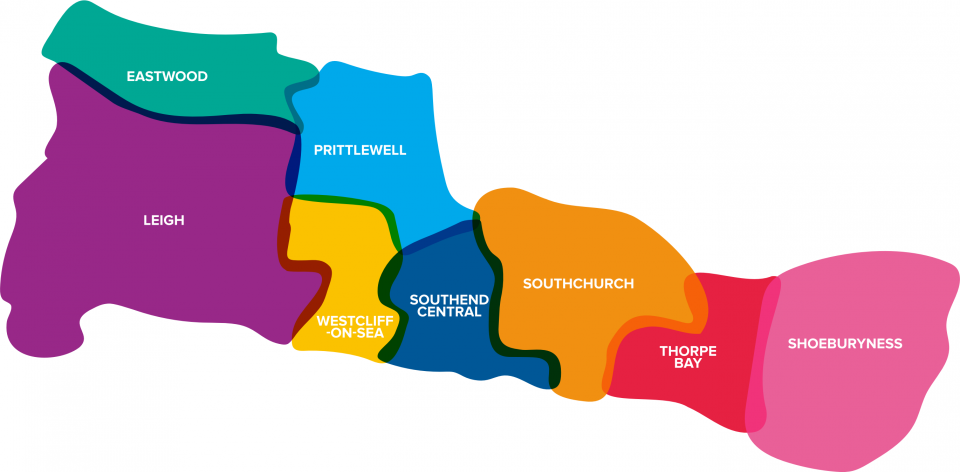 What You Said
You identified the importance of the neighbourhoods to the local community and highlighted a number of issues, including the need for investment and regeneration, the importance of infrastructure and service provision and you told us about some of the impacts more development and housing has had on your local area.1
Our Response
Having regard to your feedback we have developed a profile of each neighbourhood setting out:
their key characteristics and some of the planning issues facing them;
a draft vision/ priorities for the future planning of these areas;
proposals for the neighbourhoods, including new housing and development schemes together with employment and green space designations.
It is not intended to present comprehensive information or definitive boundaries for these neighbourhoods, but rather to stimulate discussion about particular issues and options that you think they will face in the future. These will be refined and developed as part of the next stage of the New Local Plan preparation.
We would now like your views on what you think of the proposed Profiles for each of the neighbourhoods.